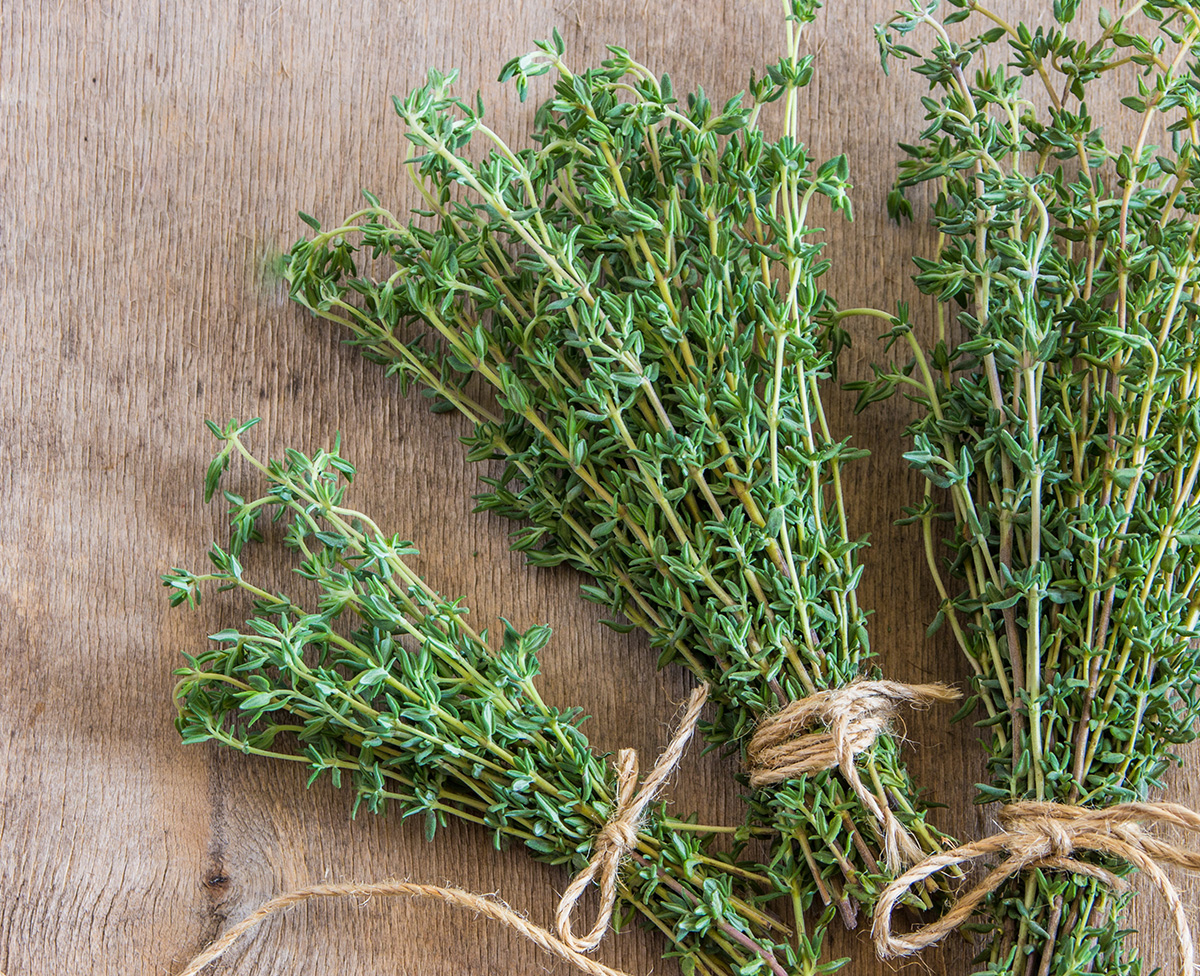 Thyme
(Thymus vulgaris) - Perennial
Thyme is another Shakespearean herb and it still thrives in the moors of Great Britain. Thyme's name comes from the Greek word for 'incense' or 'fumigate,' perhaps because of its clean fragrance.
Thyme has been known through history to be a symbol of courage and it was put in the coffins of the dead for safe passage into the next world. Thyme is an antioxidant so it is no wonder that the American colonists used it on fats to make them taste better as thyme also kept it from spoiling. Generations have also used the herb to repel moths where wools and furs are stored.
There are two kinds of thyme – upright subshrubs and creeping thyme. There are over 400 varieties of thyme because they cross-breed easily and often, especially the creeping varieties. The upright thymes are the culinary versions and have a woody base and grow to be 12 to 18 inches high. Creeping thymes are most often used as ground cover and grow from 1 to 6 inches high. Both types of thyme produce small tubular pink or lilac flowers that bloom in early to mid-summer.
Thyme is a garden favorite but can sometimes suffer during cooler Southern winters. With a little work, however, your thyme will live to see the mild winters it thrives in. Thyme is not winter hardy, so use a good mulch to protect grounded plants in colder weather. The heating of rocks from the intense Southern summer sun makes planting thyme in rock gardens a risk. Also beware that thyme cross-pollinates easily.
Kitchen Gardens grows and recommends the following varieties of basil – we think you'll enjoy them, too!
Common thyme (Thymus vulgaris)
Upright
Oval shaped grey-green leaves
Woody base
Lemon thyme (T. vulgaris var. Citriodorus)
Upright
Dark green leaves
Lemon scented
Silver thyme (T. vulgaris var. Citridorus 'Argentus')
Upright
White-green leaves
Decorative
English thyme
Also called garden thyme or German thyme
Highly fragrant